Inland Fishing Charters Venice, LA
Louisiana's best fishing comes from the marshes and shallow waters of the Gulf of Mexico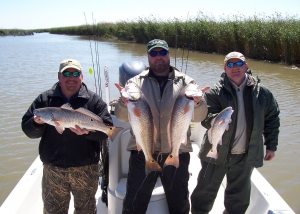 Enjoy premier fishing with an inland fishing charter off the coast of Venice, Louisiana, led by our own Capt. Trey Pique. The fertile environment created by the Mississippi River is abundant with multiple species of fish and provides an open fishing season all year round. Let Capt. Milano use his years of experience in the Louisiana waters to give you a successful fishing trip.
While inland fishing in the Gulf of Mexico trout, redfish and flounder are plentiful and available throughout the entire year. The best time for trout fishing usually begins in May and lasts through October. The daily bag limit for speckled trout is 25 per person, but currently there is no set limit on white trout. Redfish is the most plentiful during the months of August, September and October while flounder reaches its peak throughout October and November.
Inland Charter Trips Available
Speckled Trout
Redfish
Flounder
Advantages Inland Fishing has over Offshore Fishing
Shorter distance to travel from the shore means more time for fishing
Better charter choice for those who become seasick easily
Great charter trip for the whole family
When you choose an inland fishing trip with Voodoo Fishing Charters, Capt. Milano will take the boat out no further than 30 minutes from the Venice, Louisiana shore. The exact location where you will fish is determined by the current activity of the species you are most interested in targeting as well as the current weather conditions. Most fish are caught anywhere from 2 feet to 30 feet below the water's surface, by using a rod and reel.
Whether you are an experienced fisherman or a novice, an inland fishing charter with Capt. Milano provides a great fishing experience for everyone.
Contact Us Today to book a Louisiana inland fishing trip with Voodoo Fishing Charters!