MARLIN FISHING CHARTERS IN VENICE, LA
Charter your marlin fishing adventure today!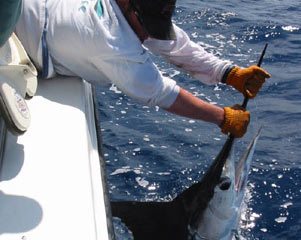 Get ready for the fight of your life when you set out for a marlin fishing trip with Voodoo Fishing Charters. When fishing for marlin be prepared to battle a powerful fish that will jump and change directions in attempts to break away from the line. Because of their willingness to fight, marlin continue to be a highly sought after game fish, even though they are not commonly eaten. Marlin are also referred to as billfish and ocean gar.

Throughout the summer months of May, June and July, marlin fishing is at its finest. Although Capt. Trey Pique follows a strict catch and release policy, offshore marlin fishing charters provide both challenging and exciting fishing experiences. By using both lures and live bait, we are usually able to catch marlin that weigh in between 150 and 300 pounds.
What makes marlin fishing exciting?
Resilient fighters, use powerful jumps and direction changes
Fast swimmers provide fast paced action
Ultimate sport fish, larger and stronger than all other game fish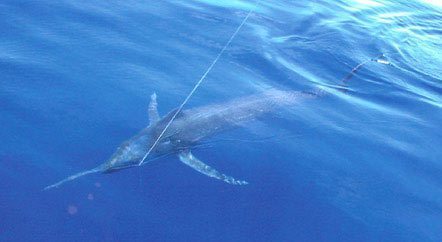 Capt. Pique will travel anywhere between 15 and 100 miles off the coast of Louisiana to find the best suitable location for fishing. Marlin can often be found swimming near weed lines and can be seen from the water's surface. While targeting marlin on your trip you may also catch other blue water species including tuna, dolphin and wahoo.
Your fishing trip is sure to be a success when Capt. Pique is your guide because he is always willing to push himself and his equipment to the limits necessary for exciting marlin fishing.
Contact Us Today to book an offshore marlin fishing trip with Voodoo Fishing Charters!