TUNA FISHING CHARTERS IN VENICE, LOUISIANA
Book your next tuna fishing trip with VooDoo Charters for the fight of your life!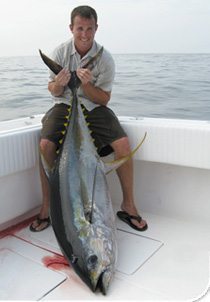 When you book a tuna fishing charter, you'll embark on one of the most fast-paced and exciting fishing experiences you've ever had!
Because yellowfin tuna are such fast swimmers that are constantly moving through the water, they create a stimulating fishing challenge. Yellowfin tuna are also commonly referred to as ahi, and they are a very popular sport and commercial fishing target.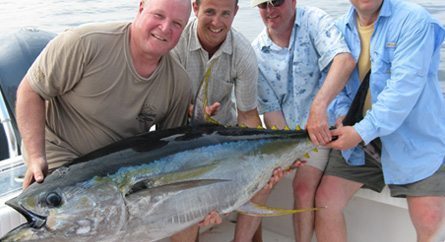 The Louisiana Gulf coast is one of the few locations worldwide that offers a year round tuna fishing season. Because of this, tuna fishing trips can be booked with Capt. Trey Pique at Voodoo Fishing Charters during anytime of the year. Throughout the winter months, tuna can generally be caught at the infamous Midnight Lump located just 50 miles off the coast of Venice, Louisiana. When the weather is warmer, tuna are caught throughout the Gulf waters.

Why is tuna a great target for sport fishing?
Quick swimming speed provides a challenge
Travel in schools that can be seen at the water's surface
Offers exciting fishing experiences year round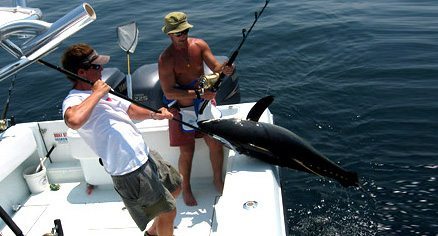 Capt. Pique will travel anywhere from 7 to 75 miles offshore from Venice, Louisiana to find a prime fishing spot. Once the fishing has begun, several strategies such as live baiting, top water fishing, chumming and kite fishing can all be used to catch quality tuna. Each person on the trip is allowed three tuna by the legal bag limit. On average, tuna that are caught in the Gulf of Mexico weigh in between 40 and 60 pounds, but we have managed to catch some that have been as large as 180 pounds!
While on a tuna fishing charter, you also have the opportunity to catch other fish including marlin, dolphin and wahoo. Tuna fishing provides a fun, fast paced trip for both experienced fishermen and newcomers.
Contact us today to book your offshore tuna fishing trip with Voodoo Fishing Charters!