DOLPHIN FISHING CHARTERS VENICE, LA
Join us for some dolphin fishing excitement!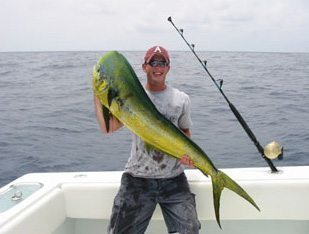 You're in for an offshore adventure with one of the most challenging saltwater game fish when you catch a dolphin, a dolphin-fish that is. These fish are often confused with bottlenose dolphins since they share a similar name. Dolphin-fish are also widely referred to as mahi-mahi and dorado. Mahi-mahi means strong-strong in Hawaiian which likely depicts the fish's fiery fighting ability once hooked.
Throughout the months of May and June, dolphins are one of the most sought after game fish in the Gulf area. Dolphin-fish are abundant breeders with fairly short life spans, which eliminates the need for a limit and makes them the perfect fish of choice for game fishing. On average, the dolphins that are caught off the Louisiana coast range between 10 and 20 pounds. Because Capt. Trey Pique has fished the Venice area waters for years he is in tune to which locations offer the most fertile fishing experiences.

Why is dolphin great for sport fishing?
They are fast swimmers, but travel in schools
Can be attracted by using a variety of baits
Provide a challenging and exciting fishing experience
To find the best location for dolphin fishing we will travel approximately 12 to 60 miles offshore out of Venice, Louisiana. Bluewater specialist Capt. Pique will employ several techniques like trolling live baits, skirted baits, and naked ballyhoo to ensure that you have the best trip possible. While fishing for dolphin in the Gulf of Mexico you will also be able to catch tuna, wahoo and marlin.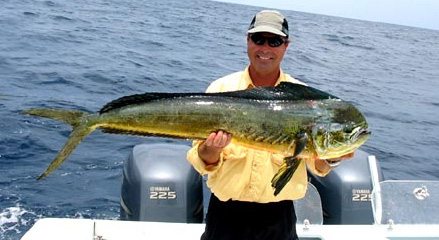 Although various fishing strategies can be used to catch dolphin, no prior experience is needed before attending a chartered fishing trip with Capt. Pique.
Click here to book your offshore dolphin fishing trip with Voodoo Fishing Charters!